If you've noticed lines or wrinkles on your face, then you've probably considered Botox. Botulinum toxin injections, commonly known as Botox, are the most frequently performed cosmetic treatments in the United States today. Even with how popular Botox is, there are still a lot of myths surrounding the treatment and we're here to help debunk the most popular Botox myths.
A Short History of Botox
Modified forms of Botox were first used for cosmetic purposes in 1989, and the FDA approved the use of Botox Cosmetic to reduce the appearance of forehead wrinkles back in 2002. 
Currently Botox is the most widely performed non-invasive cosmetic procedure and around 7.5 million Botox treatments were performed last year in the US.
While the positive benefits of Botox have become widely known, the perception that Botox has negative side-effects still exists. Our providers at REN Dermatology would like to explain some of the negative beliefs about Botox and reassure our patients who might be hesitating about moving ahead with Botox treatments.
Myth #1: Botox is toxic, and nobody knows the long-term effects.
FACT: It's no secret that Botox is derived from botulinum toxin, but the levels injected into the body are not high enough to be considered toxic and it's important to remember that Botox is considered safe.  It has been used for therapeutic purposes since the 1980's. The safety and effectiveness profile of Botox has been described in thousands of articles in peer-reviewed scientific and medical journals. Botox has become the most widely researched and studied treatment of its kind. 
Myth #2: Botox will give me a "frozen" or expressionless look.
FACT: A "frozen" look usually is a result of overdosage. An experienced injector would know how many units to inject to get the desired effect but also look natural. When injected correctly Botox looks natural and gives you a more youthful and refreshed appearance. The goal is not to look overdone or frozen, but rejuvenated and young.
#3: Botox will completely erase all my wrinkles.
FACT: There are 2 types of wrinkles: dynamic & static. Dynamic wrinkles are present with facial movements, static wrinkles are present at rest. While Botox can help improve both kinds of wrinkles, static wrinkles may need additional treatments, such as fillers or laser. Once you start receiving Botox and you maintain your treatments, then your wrinkles will not become deeper but will continue to smooth out over time. 
Myth #4: Botox is only good for smoothing out forehead wrinkles.
FACT: Botox has numerous cosmetic uses that you wouldn't think of such as lifting the eyebrows, smoothing out crow's feet, making the lips look fuller or "poutier" without adding volume, smoothing out a dimpled chin, preventing the mouth corners from turning down, giving the neck a more lifted appearance, decreasing sweating under the arms or hands.
Myth #5: Botox requires a lot of maintenance. 
FACT: At REN Dermatology we recommend having Botox done 3 to 4 times per year to maintain results and it is a quick 15-minute appointment, so it does not require much of your time to keep it up.
REN Dermatology and Laser Center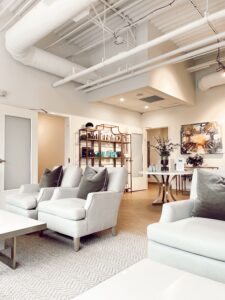 Based in Franklin and Brentwood, Tennessee, REN Dermatology and Laser Center treats patients from the entire greater Nashville area including Belle Meade, Green Hills, Nolensville, Spring Hill, Thompson Station, Columbia, Murfreesboro, Smyrna, Cool Springs.