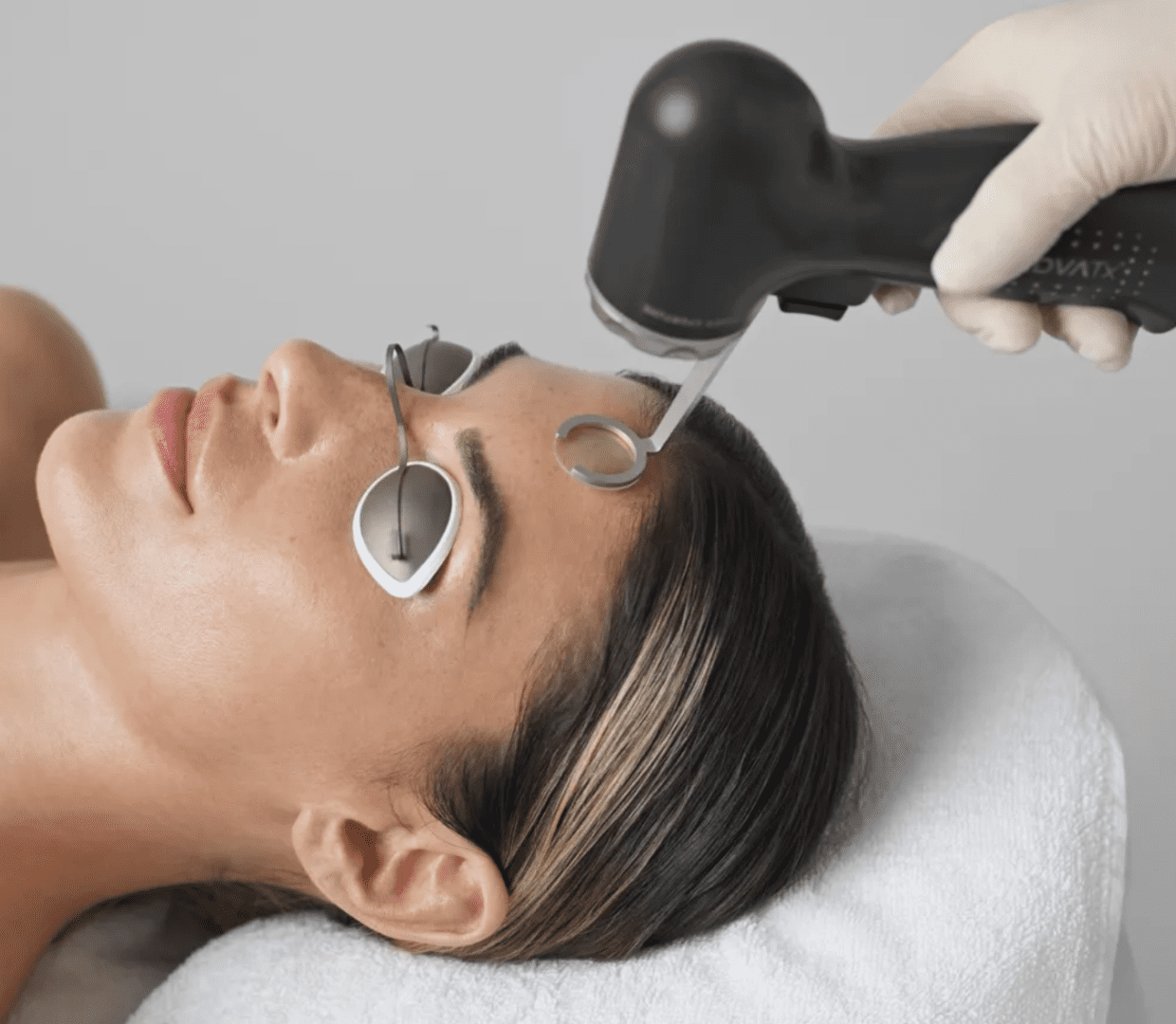 ADVA Tx is an innovative laser therapy that uses two light wavelengths (589 nm and 1319 nm) to treat numerous FDA and CE cleared conditions ranging from facial veins to melasma, acne and wrinkle reduction. ADVA Tx also improves skin tone, texture, health, and appearance with no downtime.  
How does ADVA Tx work? 
ADVA Tx uses two high powered wavelengths, 589nm and 1319nm.  The combination of laser energy improves skin tone, texture and overall dermal health by targeting the vascular components of melasma, dyschromia, sun damage and unwanted pigment while simultaneously reducing wrinkles, limiting oil production and shrinking pore size. ADVA Tx also eliminates rosacea, acne, acne scars and undesired vascular abnormalities such as telangiectasia, hemangiomas and venous lakes, restoring your skin to a more youthful and healthy state. You will leave the clinic with a youthful glow to your skin.  
What conditions can ADVA Tx treat?  
ADVA Tx can deliver a range of skin improvements for all skin types, including: 

Rosacea
Facial veins 
Hyperpigmentation 
Melasma  
Fine lines and wrinkles 
Tone, texture and brightness 
Acne 
Angiomas 
Am I a good candidate for ADVA Tx? 
One of the many benefits of ADVA Tx technology is how gentle the treatment is. This procedure can be performed on patients of all ages and most skin tones. If you are in good general health, have no open wounds in the treatment area, and desire skin improvement, ADVA Tx is likely suitable for your needs.
When will I see the results from ADVA Tx? 

Your skin may look brighter and smoother as soon as the day after your treatment.  For some conditions, particularly facial spider veins, patients can often see immediate reduction in the concern. Many conditions, such as rosacea and melasma, full benefits are achieved with multiple sessions.   

How many ADVA Tx treatments will I require?  

The number of treatments you will need can vary based on the individual and the skin condition treated. Conditions such as melasma and rosacea may take 4 to 6 treatments spaced 1 month apart. Acne treatment typically takes 3 treatments spaced 3 weeks apart.  
During Your Treatment 

Arrive to the office with your face washed and without makeup. 
Many patients describe the treatment as a warm or tingling sensation and rate it a two or three out of ten on the pain scale. 
Most treatments are performed in around 30 to 60 minutes. 

After Your Treatment 

Once your treatment is complete, you should be able to return to your normal activities. We recommend staying out of the sun for the first 24 hours of treatment, and we advise wearing sunscreen any time you are exposed to sunlight. Some redness may be visible at first, but this effect should fade within a few hours. 
How REN Dermatology Can Help
REN Dermatology & Laser Center is a comprehensive skin care center located in Franklin and Brentwood, Tennessee, in the heart of Williamson County. Our mission is to provide patients with expert dermatologic care in a comfortable and welcoming office environment.

REN Dermatology & Laser Center offers convenient hours, including appointments in the early morning, late afternoon/evening, and weekends. The office can accommodate patients' needs for utmost privacy and confidentiality, including a private entry and waiting room by request.