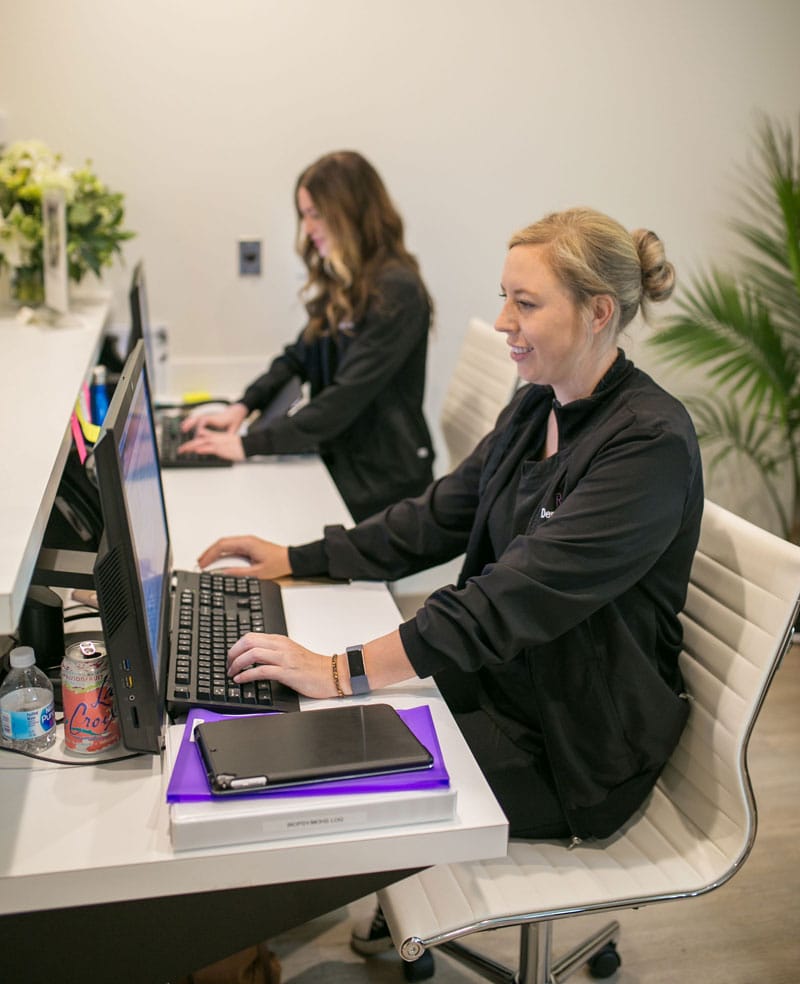 New Patient Information + Paperwork
If you are a new patient, please arrive at your appointment at least 15 minutes early so that you may fill out your new patient paperwork. For your convenience, you may access our on-line patient portal where you can complete the medical information portion of your paperwork prior to your appointment. To access the portal, please call our office and request a password.
New patient paperwork can be found by following the links below:
If you are transferring your care from another physician to our practice, please have your medical records faxed to our office prior to your visit (FAX: 615-835-3235).
Medical Payment Policies
COPAYMENTS, DEDUCTIBLES, AND COINSURANCE
Your insurance co-payment is due at the time of your visit. Skin biopsies and pathology services performed in-house will be charged along with the office visit. If further testing is required to obtain an accurate diagnosis, your specimen will be sent to an outside laboratory where additional charges may apply. If you are unable to pay your co-payment at the time of your visit, we will reschedule your office visit. If we determine that you have a deductible or a co-insurance amount due, you will be asked to pay this amount at the time of your visit. We do our best to have accurate collections, but please note that your co-pay/deductible are subject to determination by your insurance company. As a courtesy, our officer will file your claim with your insurance company and initiate correspondence with the purpose of getting you the maximum coverage your insurance allows. SELF PAY FEE SCHEDULE:
REN Dermatology is out of network with certain insurance providers. It remains the responsibility of the patient/policy holder to know your insurance coverage, including out of network benefits. REN Dermatology does not file out of network benefits. REN Dermatology has a flat fee schedule for out of network patients. These fees are subject to change without notice. REN Dermatology will provide information regarding the fees upon request. If you have not provided medical insurance, you hereby confirm that you do not have insurance to be billed and understand that payment is due at the time of service.
AUTOPAY:
REN Dermatology encourages patients to enroll in automatic payment when insurance claims are being filed. AutoPay helps reduce the amount of paper statements sent. AutoPay is designed to be used only for insurance submitted claims after insurance has been fully processed. Patients will authorize a waiver in-office and provide the credit card to be utilized for AutoPay. After a claim for services rendered has been submitted and fully processed by your insurance company, any balances listed as "Patient Responsibility" will be charged to the card on file. Patients will receive an email 10 days prior notifying them of the balance to be charged, with a maximum of 1 successful payment via AutoPay per claim and a maximum of $250 per patient. AutoPay will not run again to process any residual balance. Any additional balance over $250 will be collected by REN Dermatology. If the payment fails or declines, the AutoPay status will be declined. The transaction will try and process for 4 consecutive business days. If still unsuccessful, the AutoPay claim will remain in declined status and you will receive a statement in the mail.
INSURANCE BALANCES:
REN Dermatology will submit claims to in-network insurances on behalf of the patient as a courtesy. If we do not receive payment or resolution from your insurance company within 60 days of filing the claim, the balance becomes your responsibility. REN dermatology will automatically run the credit card on file after sending an email with the amount to be charged 10 days prior to charging the card.
Patients not covered by a medical plan we accept are expected to pay at the time of service. We accept cash, check, Visa, MasterCard, and American Express.
For billing questions, please contact our Billing Department at 615-835-3220.
IN-NETWORK INSURANCE:
REN Dermatology participates in most major insurance plans. To ensure that REN Dermatology is in network with your insurance, please contact your insurance carrier. It is your responsibility to provide REN Dermatology with accurate, up-to-date insurance information.
• REN Dermatology is current in network with United Healthcare, Medicare, Cigna (with the exception Connect/EPO Network), Aetna, Humana, Blue Cross Blue Shield, BCBS Medicare Advantage, and Humana Medicare plans.
• At this time, REN Dermatology cannot see Oscar, Medicaid, or PHCS/Multiplan patient including but not limited to: Amerigroup, TennCare, CoverKids, United Healthcare Community Plan, and Blue Care.
Cancellation Policy
We appreciate your time and your choice of us, at REN Dermatology & Aesthetics. Because we value you and your time, medical appointments and spa treatments are reserved especially for you. As such, should you need to cancel or reschedule your appointment, we kindly request you notify us at least 24-48 hours prior to your scheduled appointment. We will gladly find a time to reschedule you. 
For Medical/Cosmetic/Spa Appointments ~  
For all standard medical appointments…cancellations with LESS THAN 24 HOURS notice are subject to a Late Cancellation Fee amounting to $50.00. If you do not call to cancel your appointment AND fail to arrive for you pre-scheduled appointment, you will incur a $100.00 No Show Fee.
For procedure or extended appointments (i.e. scheduled for 30 minutes or more), please kindly provide 48 hours' notice, should you no longer be available to attend. If you fail to provide 48 hours' notice when cancelling your appointment, you will be subject to a $100.00 Late Cancellation Fee.  If you do not call to cancel your appointment AND fail to arrive for you pre-scheduled appointment, you will incur a $200.00 No Show Fee.
If you arrive 15 minutes late for your scheduled appointment time, we may ask you to re-schedule for another time.
A Final Note… 
We recognize the time of our patients and staff is valuable and have implemented these policies for this reason. Please remember, when you miss an appointment with us, we not only forfeit our ability to care for you, but also the opportunity to care for another (potential) patient who could have scheduled their appointment in your vacated appointment time slot.
Please note, when you schedule your appointment with us, you are agreeing to these policies. All services require a credit card or gift certificate to guarantee a reservation so please have your credit card and/or REN gift card on hand when booking. However, you will not be billed unless there is a late cancellation or no show.
Prices and Services
Prices and services are subject to change without notice. We will do our best to keep our clients up to date on any changes that may occur but encourage all clients to inquire about pricing and available services when booking your appointment.
Online Payment
You may pay your bill online here.
About REN Dermatology
REN Dermatology & Aesthetics is a comprehensive skin care center located in Franklin and Brentwood, Tennessee, in the heart of Williamson County. Our mission is to provide patients with expert dermatologic care in a comfortable and welcoming office environment.
REN Dermatology & Aesthetics utilizes state-of-the-art technology, from our lasers and treatment devices to the most current electronic health record systems and online patient portals.
We accept and are in network with Blue Cross Blue Shield (BCBS), Aetna, United, Cigna, Humana, Multi-plan, TriCare and Medicare insurances.
Office Locations In Franklin and Brentwood, Tennessee
Thoughtfully appointed spaces for a welcome and relaxed experience
REN Franklin
155 Covey Dr.
Suite 200
Franklin, TN 37067
Schedule Your Appointment
REN Brentwood
Harpeth Medical Center
1195 Old Hickory Blvd.
Suite 202
Brentwood, TN 37027
Schedule Your Appointment
REN Aesthetics
Harpeth Medical Center
1195 Old Hickory Blvd.
Suite 201
Brentwood, TN 37027
Schedule Your Appointment