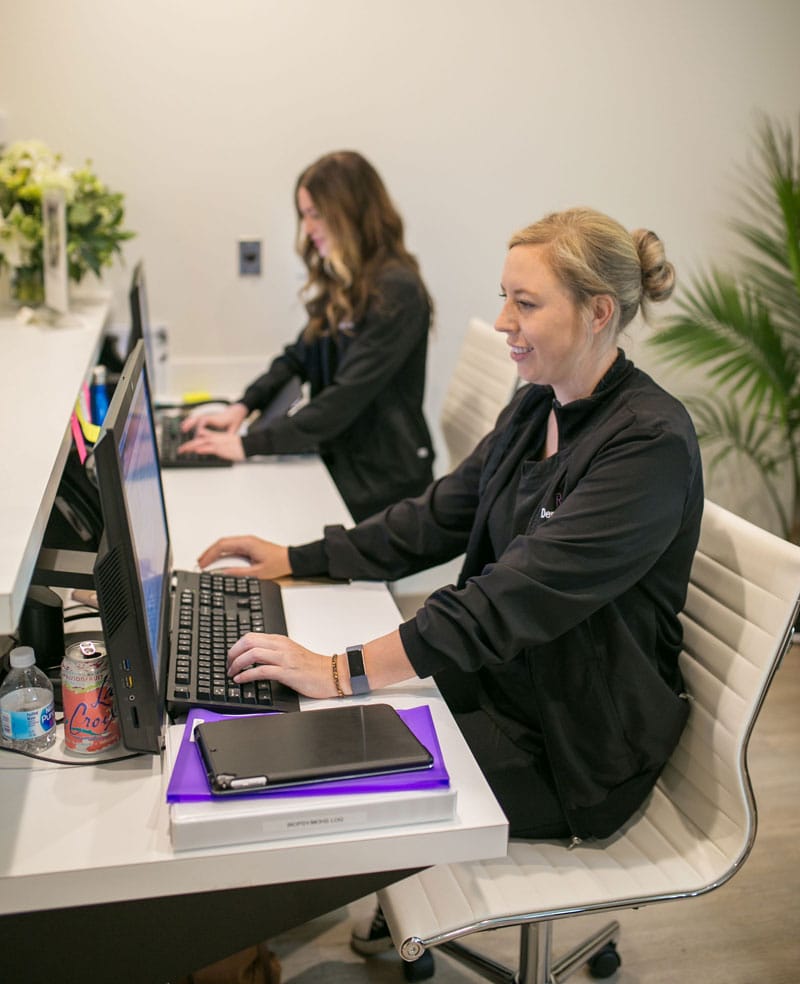 New Patient Information + Paperwork
If you are a new patient, please arrive at your appointment at least 15 minutes early so that you may fill out your new patient paperwork. For your convenience, you may access our on-line patient portal where you can complete the medical information portion of your paperwork prior to your appointment. To access the portal, please call our office and request a password.
New patient paperwork can be found by following the links below:
If you are transferring your care from another physician to our practice, please have your medical records faxed to our office prior to your visit (FAX: 615-835-3235).
Medical Payment Policies
Beginning November 1, 2015, all patients will be required to have a credit card on file in order to improve our billing system here at REN Dermatology. We appreciate your cooperation and assistance in this process.
Your specialist co-pay is due at the time of service as well as any co-insurance payments or deductible remaining for the current calendar year.
Patients not covered by a medical plan we accept are expected to pay at the time of service. We accept cash, check, Visa, MasterCard, and American Express.
We also provide our patients the convenience of a "Credit Card on File" program. Through an independent, secure gateway, we place your credit card in your record and when your insurance claim processes, your balance is processed on that card. Your credit card information is not stored on our computers and no staff member has access to it. Our billing service processes the payment through the secure gateway. For more information about this convenient program, please contact us.
For billing questions, please contact our Billing Department at 615-835-3220.
We have a 24-hour cancellation policy. Any routine appointments canceled less than 24-hours prior to your scheduled appointment time will be subject to a $50.00 cancellation fee. Procedure appointments are subject to a $100.00 cancellation fee.
In-Network Insurances:
AETNA
Blue Cross Blue Shield
Cigna
Humana
Medicare
Tricare Standard
United Health Care
View and download to review our latest billing policies here.
Cancellation Policy
If you are unable to keep your appointment, kindly provide at least 24 hours notice to avoid any cancellation fees. If you cancel your appointment within 24 hours of your scheduled time, you will incur a $50 cancellation fee. If you do not call to cancel and do not show up for your appointment, you will incur a $75 cancellation fee.
The office appreciates your time and we do our best to see patients in a timely manner. If you arrive 15 minutes late for your scheduled appointment time, we may ask you to re-schedule.
Spa Cancellation Policies and Fees
We appreciate your business. Your spa treatments are reserved especially for you. We value your business and ask that you respect the spa's scheduling policies. Should you need to cancel or reschedule, please notify us at least 24 hours in prior to your scheduled appointment. Please arrive 5 minutes early for your appointment. A late arrival may require a reduced appointment time, at scheduled price, with respect to the clients that are scheduled after you.
Any cancellations with LESS THAN 24 HOURS notice are subject to a cancellation fee amounting to ½ the cost of the scheduled service. Clients who miss their appointments without giving any prior notification are considered a NO CALL NO SHOW and will be charged IN FULL for the scheduled service. We recognize the time of our clients and staff is valuable and have implemented this policy for this reason. When you miss an appointment with us, we not only lose your business, but also the potential business of other clients who could have scheduled an appointment for the same time. This cancellation policy is established so as to compensate our staff for their time as well as lose of revenue.
When you schedule your appointment with us, you are agreeing to these policies. All services require a credit card or gift certificate to guarantee a reservation so please have your credit card and/or gift certificate ready when booking. You will not be billed unless there is a cancellation less than 24 hours or no show.
Prices and Services
Prices and services are subject to change without notice. We will do our best to keep our clients up to date on any changes that may occur but encourage all clients to inquire about pricing and available services when booking your appointment.
Online Payment
You may pay your bill online here.
About REN Dermatology
REN Dermatology & Laser Center is a comprehensive skin care center located in Franklin and Brentwood, Tennessee, in the heart of Williamson County. Our mission is to provide patients with expert dermatologic care in a comfortable and welcoming office environment.
REN Dermatology & Laser Center utilizes state-of-the-art technology, from our lasers and treatment devices to the most current electronic health record systems and online patient portals.
We accept and are in network with Blue Cross Blue Shield (BCBS), Aetna, United, Cigna, Humana, Multi-plan, TriCare and Medicare insurances.
Office Locations In Franklin and Brentwood, Tennessee
Thoughtfully appointed spaces for a welcome and relaxed experience
REN Franklin
155 Covey Dr.
Suite 200
Franklin, TN 37067
Schedule Your Appointment
REN Brentwood
Harpeth Medical Center
1195 Old Hickory Blvd.
Suite 202
Brentwood, TN 37027
Schedule Your Appointment