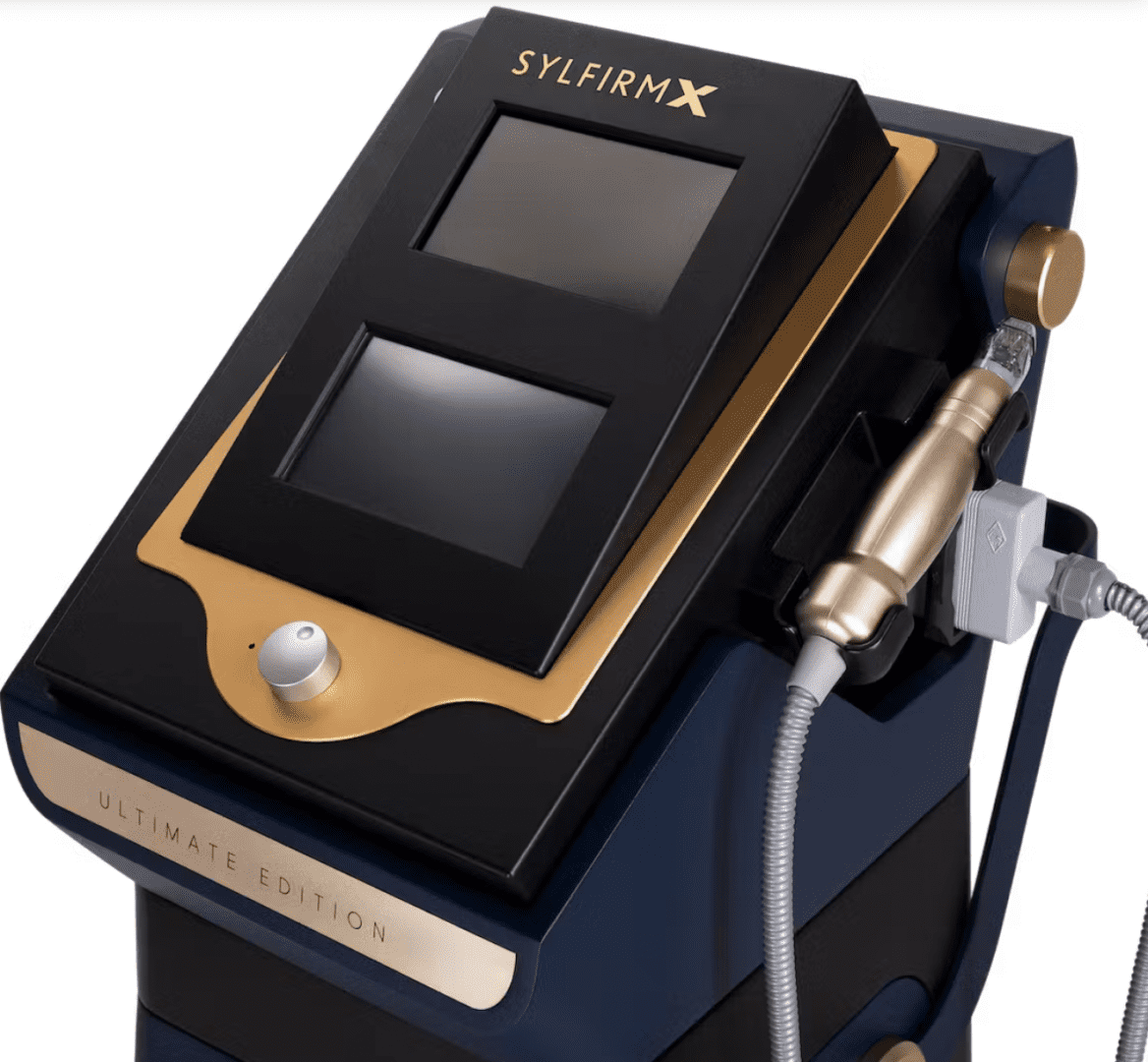 Sylfirm, is a revolutionary treatment that can help you achieve smoother, younger-looking skin.
Sylfirm is a non-invasive skin treatment that combines two cutting-edge technologies to rejuvenate the skin: microneedling and radiofrequency. Microneedling involves creating tiny punctures in the skin with a specialized device to stimulate collagen production and encourage the growth of new skin cells. Radiofrequency (RF) uses heat to tighten and firm the skin. When used together, microneedling and RF can deliver powerful anti-aging benefits, including smoother, firmer, and more even-toned skin.
How does Sylfirm work?
Using an electronically controlled handpiece, the Sylfirm uses 25 ultrafine gold-plated needles to pierce the skin and deliver radio frequency energy (heat) below the skin's surface without damaging the outer layer of the skin. The system applies a precise energy level with each pass to ensure the RF microneedling penetrates to the correct depth to provide optimal results. The controlled micro-injuries created by the treatment result in upregulation in collagen production. This increase in collagen production leads to tighter, younger-looking skin. 
What conditions can Sylfirm treat?
Sylfirm can deliver a range of skin improvements for all skin types, including:

Improving wrinkles and laugh lines
Reducing the look of pores, scars and stretch marks
Improving tone, texture and brightness
Lifting and tightening sagging skin
Reducing the appearance of a double chin
Lifting of the eye, brow, neck and jowl
Improving the appearance of Melasma (brown or grey patches)

Sylfirm Frequently Asked Questions
Is Sylfirm treatment suitable for all skin types?
Yes, Sylfirm treatment is safe and effective for all skin types, including darker skin tones.

How long does a Sylfirm treatment session typically last?
A single session typically takes about 30 minutes to an hour, depending on what area is being treated.

Is there any downtime associated with Sylfirm treatment?
Sylfirm treatment generally has minimal downtime. Some redness or mild swelling may occur, but it typically subsides within a few hours to a day.

How long do the Sylfirm X results last?
The longevity of the results depends on the skin issue being treated as well as the patient's skincare habits. Generally. results last 1 to 2 years. We recommend maintenance treatments every 6 to 12 months to extend results indefinitely.

How many Sylfirm X treatments will I require?
Three treatments one month apart for most patients will provide the best results. We recommend a one month gap between treatments to allow the skin to heal. A yearly maintenance treatment is required to maintain results. For skin brightening and rejuvenation, patients may see results after a single session, but full benefits are achieved with three treatments.
How REN Dermatology Can Help
REN Dermatology & Aesthetics is a comprehensive skin care center located in Franklin and Brentwood, Tennessee, in the heart of Williamson County. Our mission is to provide patients with expert dermatologic care in a comfortable and welcoming office environment.

REN Dermatology & Aesthetics offers convenient hours, including appointments in the early morning, late afternoon/evening, and weekends. The office can accommodate patients' needs for utmost privacy and confidentiality, including a private entry and waiting room by request.