REN Dermatology's very own, Dr. Taylor Mulkey was recently featured in the HighYa article: Crepey Skin- Causes, Prevention, and Treatment. Below is an excerpt from the article.
---
Crepey skin is a normal part of the aging process and typically occurs with people in their 40s, and even sooner for those who smoke cigarettes or spend time in the sun or tanning beds.
The appearance of crepey skin can take a toll on a person's self-esteem by making them self-conscious in certain clothes, and can even cause depression in certain individuals.
This article takes a comprehensive look at crepey skin, including the causes, foods for overall skin health, and clinical methods and products that can help diminish the appearance.
We've gathered input from several experts on this topic who offer their extensive knowledge to give you a well-rounded understanding of crepey skin and ways that can potentially diminish the look.
Keep in mind that this article is not intended as medical advice. If you decide to try any products or clinical procedures mentioned in this article, it's important to talk to your medical provider or a board certified dermatologist, first.
What is Crepey Skin?
Other than being the bane of most women over 40, crepey skin is when you have lost or thinned out the "meat" of your skin, according to Dr. Taylor Mulkey, a board-certified dermatologist at REN Dermatology & Laser Center in Tennessee.
"The primary fibers that give our skin thickness and elasticity start to break down typically around age 40," Dr. Mulkey explained, adding that "this causes the skin to be thin and loose."
How Crepey Skin Affects Self-Esteem?
"I find it incredibly depressing – nothing makes a woman feel older than crepey skin," Dr. Mulkey said. "I can't tell you the number of patients who are so disappointed when I inform them there isn't a magic fix. Crepey skin is different from wrinkles so you can't simply fill it or pull it tight."
What are the Causes of Crepey Skin?
Dr. Mulkey agreed that the most common cause of crepey skin is chronic sun exposure. Typically, we will start to see some laxity and the early stages of crepey skin starting in the 40s, she said, "however, if you have a history of heavy tanning you could potentially see some early changes in the late 20s."
There are a few other factors that can contribute to the development of crepey skin, such as lack of hydration in the skin, medications like prednisone, and gaining and losing a substantial amount of weight.
What Products do you recommend?

Skinbetter Science® Alto Defense Serum™
According to Dr. Mulkey, it is by far easier to prevent damage to the skin which eventually leads to crepiness. Therefore, she recommends an antioxidant in the morning, because "the theory is an antioxidant would be to pick up free radicals typically caused by the sun or environmental pollutants.
The antioxidant would scavenge for the free radicals and prevent damage to collagen and elastin. One of her favorites is the Skinbetter Science® Alto Defense Serum™, which contains 19 different antioxidants that are designed to "dynamically" enhance natural free radical neutralizing element
Skinbetter Science® AlphaRet® Overnight Cream
Retinols and retinoids can help rebuild collagen in the skin, said Dr. Mulkey, adding that "everyone should be on one." The biggest issue with retinoids is tolerability, she noted, because they tend to cause irritation in the skin, and she is particularly sensitive and has struggled in the past to find a product she can tolerate with daily use.
She recommends Skinbetter Science® AlphaRet® Overnight Cream, which contains a combination of an alpha hydroxy acid and a retinoid that leaves skin looking rejuvenated with little-to-no irritation.
Skinbetter Science® Trio Rebalancing Moisture Treatment™
A good moisturizer is a must, Dr. Mulkey emphasizes, "but pay attention to the ingredients. In general, a cream is better than a lotion and having some alpha or beta hydroxy acids can actually lubricate and plump up the skin." She advises to look for glycolic, lactic or salicylic acid, and is "a big fan" of Skinbetter Science® Trio Rebalancing Moisture Treatment™, which is a triple-action formula that helps to hydrate a compromised barrier and bring moisture back to the skin.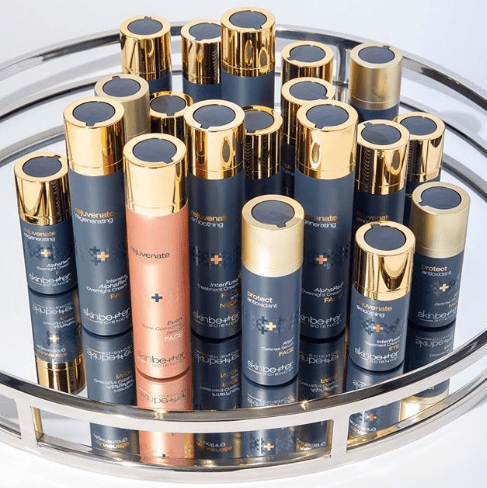 Epionce® Renewal Facial Cream
Dr. Mulkey suggests Epionce® Renewal Facial Cream, which the company claims is its "flagship" product. It contains sodium hyaluronate, which is the sodium salt of hyaluronic acid, among other paraben-free ingredients – including apple extract, date fruit extract, and avocado oil – creating a hydrating formula for visibly smoother, tighter skin.
Click here to read the entire article.
Call REN Dermatology at 615-835-3220 to schedule an appointment at either our Brentwood or Franklin office and learn about your options for treating crepey skin.