Ali Fedotowsky- Manno the reality television star from Bachelor and Bachelorette was recently diagnosed with shingles. According to the People Magazine article she "didn't think that was even possible". Ali posted on Instagram that she had been hiding the spots on her face the last few days but realized she should share the news in the hopes that it could help others.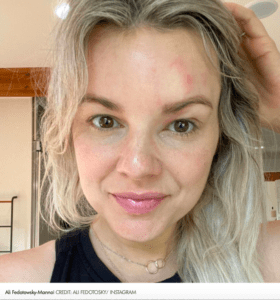 Continue reading for facts about Shingles.
At REN Dermatology our board-certified dermatologists are experts in diagnosing and treating shingles.  
4 Facts you may not know about shingles.  
What is Shingles? – Shingles is caused by the varicella-zoster virus — the same virus that causes chickenpox. Anyone who's had chickenpox may develop shingles. After you've had chickenpox, the virus lies inactive in nerve tissue near your spinal cord and brain. Years later, the virus may reactivate as shingles. 

How do I know if I have shingles? Signs of shingles include pain, burning, numbness or tingling, sensitivity to touch, a red rash that begins a few days after the pain, blisters that break open and crust over, and itching. 

Pain is usually the first symptom of shingles and for some, it can be intense. Shingles can occur anywhere on your body; however, it most often appears as a single stripe of blisters that wraps around either the left or the right side of your torso.

 

Who can get shingles? Shingles are more common in older adults and in people who have weakened immune systems. 

 

Are shingles contagious? Yes, but you cannot give anyone shingles. While you have blisters, you can spread a virus. If that virus infects someone who hasn't had chickenpox (or the chickenpox vaccine), the person can get chickenpox.

 According to the 

American Academy of Dermatology

, 

many people mistakenly believe that they cannot get shingles because they don't remember having chickenpox. If you were born in the United States before 1980, you likely had chickenpox.




 
If you suspect you have shingles schedule an appointment with a board-certified dermatologist from REN Dermatology. Prompt treatment with medication can speed up healing. 
Based in Franklin and Brentwood, Tennessee, REN Dermatology and Laser Center treats patients from the entire greater Nashville area including Belle Meade, Green Hills, Nolensville, Spring Hill, Thompson Station, Columbia, Murfreesboro, Smyrna, Cool Springs. 
You can learn more about shingles here.