Dr. William Stebbins, a board-certified dermatologist and fellowship-trained dermatologic surgeon joined REN Dermatology in 2022 to practice Cosmetic Dermatology in the Brentwood location.
The top graduate in his class at Mount Sinai School of Medicine in New York City, Dr. Stebbins completed his Internship in Internal Medicine at Massachusetts General Hospital and graduated from Dermatology Residency at Harvard Medical School. He subsequently completed a Procedural Dermatology fellowship at the Laser and Skin Surgery Center of Indiana.
Dr. Stebbins has authored a number of peer-reviewed journal articles and textbook chapters related to medical, surgical, and cosmetic dermatology. He also lectures on a variety of topics at national and international dermatology conferences.
Dr. Stebbins is a fellow of the American Academy of Dermatology (AAD), the American College of Mohs Surgery (ACMS) and the American Society for Dermatologic Surgery (ASDS) and is a member of the Tennessee Dermatology Society.
Dr. William Stebbins' Services
Dr. Stebbins is booking cosmetic appointments at REN Dermatology Brentwood. His services include toxins (like Botox and Dysport) and Cosmetic Filler.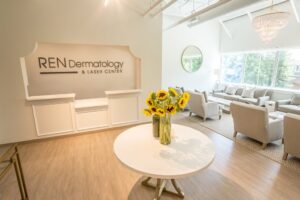 REN Dermatology Brentwood
Dr. Stebbins will be accepting appointments on Saturdays in our Brentwood office. Our Brentwood office is located at 1195 Old Hickory Blvd Suite 202 Brentwood, TN.
If you see Dr. Stebbins in the office, please give him a warm, REN welcome!